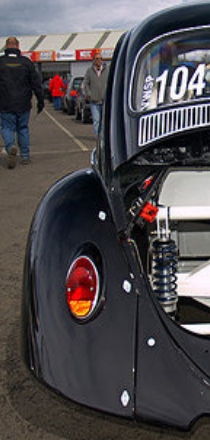 Current Racing - News
________________________________________________________________________
________________________________________________________________________
________________________________________________________________________
________________________________________________________________________
BLACK CURRENT TAKES WORLD RECORD!

NEW PB & WR 9.51Second 1/4 mile @ 135mph!
NEDRA

eurodrag_edited-1.jpg
________________________________________________________________________
Bug Jam 24 - What a weekend!

VWDRC.COM Frontpage
Well we're all back from a weekend of world class racing at Bug Jam 24 and I'm certainly in need
of a rest! What a weekend!
Congratulations to rookie Sam Young in 'Black Current III' car not only for his electrifying (see
what I did there) victory over Matt Attwood's V8 powered 'Blacklisted' in VW Pro but for his
excellent silent burnout right out to the 60ft mark in qualifying. Anything petrol can do, electric can
do too eh guys?!
This is the first time an electric vehicle has ever taken the honors in a UK championship class and
the Hungerford VW Club guys really are knocking on the doors of re-setting their own European
Record as well as taking a world record off the Americans and we wish them all the luck for the
future.

Picture from DarrenW of http://www.retromotoring.com
Russ Weir continued his progression towards upgrading from Runner Up in last years
championship to Winner for 2010 defeating another Rookie Rhonda Calloway in a super close
final. Unfortunately Russ's excellent looking Ghia isn't quite finished so he was in his sister
Lou's Mk2 Golf GTi, but such a fantastic performance really shows just how great a racer Russ
is, it seems he can win in anything!
With all that action over the weekend there's a couple of special mentions too, in no particular
order. Russ Fellows. 10.1 with 'chute out from the 60ft mark first pass out and closing the show
with the lowest ET for an aircooled all weekend of 9.21 at 151mph. An awesome performance
from a regularly driven street car I'm sure everyone can agree.

Picture from DarrenW of http://www.retromotoring.com


Click Here for the YouTube original.
Wayne Allman. What can we say? Awesome? Amazing? Insane? Probably. Intergalactic?
Certainly.
If you didn't see it over the weekend 'Mental Breakdown' is Wayne's latest inspired creation,
sporting a Methanol- burning supercharged Keith Black V8 burning ten gallons of Methanol
per run and capable of well over a thousand horsepower Mental Breakdown is truly something
special and Wayne has pushed the envelope of not just VW race cars, but race cars
worldwide with this creation.
Only on licensing passes this weekend, but he's certainly not holding back!

Picture from DarrenW of http://www.retromotoring.com


Click Here for the YouTube original.
Thanks to everyone that made Bug Jam 24 one of the best ever, I certainly had one of the
best weekends ever.
________________________________________________________________________

We have been chasing the 100mph mark for about 6 years, buying the zilla and two ADC 8's from EVParts back in 2005.
This latest car is the Mk III. After two previous attempts we knew it was going to be an up hill struggle.
We decided to start from scratch for Black Current III, designing out all the issues we thought we'd have and have found before from the outset.
We knew we had to go for a rear diff and this mean't we'd have to tubular chasis the whole car.
The motor setup ofcause could only be done by one person in the world and that was Jim Husted of HiTorque.
It was a stretch to fund it but Jim took three ADC 8" in part exchange, which he was going to build for stock.
There have been several hi pro electrical/electronic EV components pioneers who have helped us forge ahead in our quest for speed - Otmar Ebenhoech with his incredible Godzilla-Zilla controllers, Rich 'Madman' Rudman who after co-designing the DCP line of Raptor controllers went on to provide us with his aggressive high current Manzanita Micro fast-chargers, and now it's Jim Husted with his hotrod DC motors. I am happy to have been a co-instigator with all of three of these over-amped maniacs :-)
From there on in we just worked our asses of trying to get it finished. Paint was done by a friend in our dusty garage for a crate of beers and that's kinda how all the car has come together.
Still running lead batteries which were kindly donated to us by a local electronic company.
Olly.

________________________________________________________________________
________________________________________________________________________
PistonHeads News
________________________________________________________________________
Motor Sports Association News
________________________________________________________________________
A E Racing Report
________________________________________________________________________
Alternative Energy Event